Who We Are
Family Owned and Operated Since 1946
General Contracting
Humble Construction is your General Contractor, serving the Greater Columbus, Ohio and Dayton, Ohio regions.

For more than 75 years, our highly experienced team of construction professionals has provided high-quality general contracting and design/build construction services to a diverse group of clients. We specialize in industrial, commercial, healthcare, renovation services, tenant improvements, steel fabrication, and concrete construction.

Humble Construction goes beyond the traditional services you expect from a general contractor. We deliver the site management, project analysis, and risk prevention & resolution services necessary to ensure that your project is completed safely, on time, and within budget. We bring our passion for building and our team-based approach, and we dedicate ourselves to doing what it takes to get the job done. We choose our team of subcontractors based solely on your project's needs and our commitment to achieving the best possible outcomes.
We focus on VALUE!
That means experience, quality, integrity, innovation, faster completions, safety, rapid responses, open communication, best solutions, and problem free projects. What's important to our customers is important to us.

For questions or more information, feel free to reach us using our Contact Form.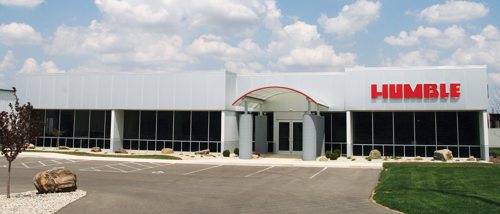 Corporate Office
1180 Carlisle Street
Bellefontaine, Ohio 43311
800-589-6035
Fax: 937-592-0420

Humble Construction was founded in West Liberty, OH in 1946. Our corporate headquarters are now located in nearby Bellefontaine, OH. We coordinate construction projects all across central and western Ohio, but are conveniently located just off Route 33 and Route 68, centered between Marysville, Urbana, Kenton, and Wapakoneta. We provide a variety of construction services for industrial, commercial, public, concrete, healthcare, steel fabrication and renovation applications and are a proud American Buildings® builder providing pre-engineered steel building products.

Columbus Office
445 Hutchinson Ave.
Suite 520
Columbus, Ohio 43235
800-589-6035

Humble Construction opened our Columbus, OH office several years ago to better serve our clients directly in and around the Franklin County. Our office is located just north of Columbus off Interstate 23, though our reach extends throughout the Central Ohio region. We have a long history of providing design/build and construction services in the area, including industrial construction, commercial construction, renovations, concrete construction, healthcare construction, public construction and steel fabrications.